In my previous article, I wrote that I failed to display the CCTV images on my PDA. The real reason for the failure is that the DVR (NVR-1004+) does not have a built-in video server nor the appropriate PDA applications.
Now that I have upgraded my DVR to 8CH MPEG4 DVR Series, it is a different story altogether.
The DVR has a built-in video server and I could download the necessary PDA applications from a website. The DVR is however twice more expensive than the NVR1004+.
After installing the DVR, I browsed the website indicated by my vendor. On the website, the following items were displayed;
GPRS Surveillance Application Downloads
---
GPRS/3G Software
EagleEyes(J2ME)
EagleEyes(For WinCE)
The first and second item didn't work on my PDA. The third item is an application for WinCE and it does work on my friend's Dopod 838 Pro. After entering the;
hostname
username
password
IP address
port number
I was able to view the CCTV images on the PDA. Below is the image;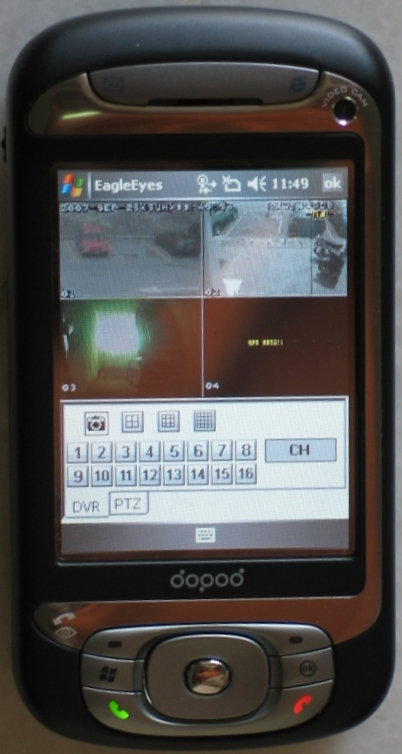 I could click on any of the channels for a closer look;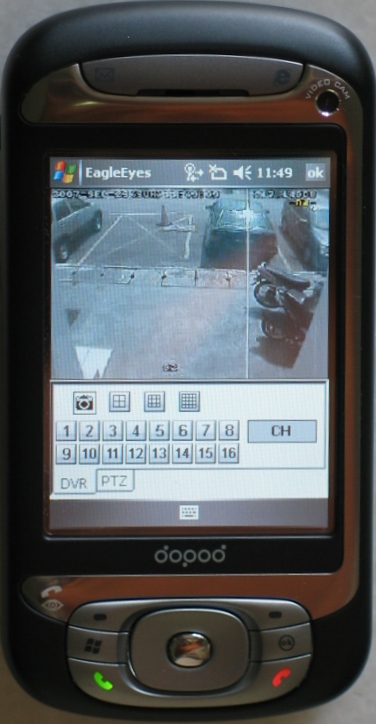 I could even capture any images that I want as a photograph, which I could send as MMS to the appropriate authorities!
The best part is that I could view the images from the DVR by using just a web browser. If I am somewhere far-far away, without my notebook, I could drop by at any cybercafe and view the CCTV images at home by just using Internet Explorer. I enter the URL and port number of my DVR in the address/URL space and I will get my login page. By clicking on two buttons there, the appropriate apps would be installed and I could view the CCTV images.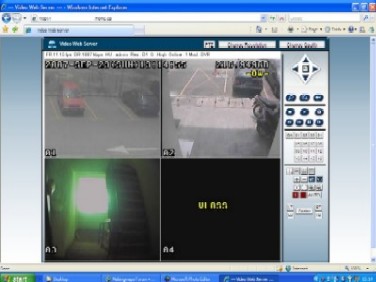 Conclusion
It is possible to view the CCTV images on your PDA with the appropriate equipment and application 😀