Relatives! Relatives! Relatives! Coming from a big extended family, I have a lot of them. When I married my wife, I added hers to mine. The problem with relatives, is that I find it too hard to remember their names and faces, let alone the names of their spouses and children. Therefore at the big family gatherings, it tend to get embarassing with me trying to remember their names.
To overcome this problem, I've been collecting their names and addresses for the past 5 years. Initially I used my own custom application designed using Access. It is adequate for such use but it has its own weaknesses. Usually by the time my notebook has finished booting up, the guests has started to leave, giving me little time to get the necessary information.
In year 2000, I had my Palm IIIc. It made such work easier although I was only using the default addressbook to collect such information. It's most glaring weakness is that I have no idea how these individuals are related to each other. I had to depend on other people's word that these individuals are 'sedara'. How they are related to us…..I have no idea, whatsoever.
Sometime late last year (2002), I was 'introduced' to the MyRoots v 1.7 (the most current version is 2.3, available from http://www.tapperware.com) application at the palmx discussion group. Since then, I've been using it diligently. This review is meant to introduce others to this application and how we could make use of it in our daily life.
Using MyRoots
Using it was easy enough despite me not reading the manual. Upon starting the application, you can start entering data immediately. Instead I would advice you to go to the main page.
Now click on the top right of the screen and edit the available categories. Once you have more than a thousand names, you'll realise the value of such categories.
If you plan to keep only the data of immediate relatives, you can use the following categories;
Core
Husband's immediate family
Wife's immediate family
Husband's father side
Husband's mother side
Wife's father side
Wife's mother side

But if you intend to gather up to 8 generations of relatives, you may wish to extend those categories to the maximum 15, else it will be hell later trying to locate any names. Right now I have data of 8 generations of the relatives of my wife and more than a thousand names (and that is just one sixteenth of the total!), and I find it very difficult to locate any names. More about this later.
Once you are happy with the categories, you can start entering your data. I'll give a brief overview how it is done. Then you'll see how easy it is.
Just click on 'New' and fill up the form accordingly.


After filling it up, click 'Done' and you'll see the following screen.

As you can see at the bottom of the screen, MyRoots allows you to add the 'events' of the life of the person. For example; marriage & death. These events can be used to flesh out a person's life.

Tips
If you intend to add the names of their children, may I suggest that you follow the following method;
Click on 'Events' and choose 'Marriage'.

Fill up the event form accordingly. For the name of the spouse, click on it and select the name of the spouse. If the name isn't available, click on 'New' and enter the spouse's info. Once done, select the name of the spouse. Then click on the 'Done' button again.
You'll be looking at the person's mainpage again. The only difference is the addition of the 'marriage event'.

Now select on the word 'Marriage'. You'll be brought to the marriage event form again, with one major difference. Available now is a button labelled 'Add Child'.

Select the 'Add Child' button and add the name of all the children. Once done, you will have the following screen.

Click on any of the children's name & you will notice that the name of the parents are automatically inserted.

Otherwise you would have to select the name of the parents of every single children. Such work would be too tedious to do, especially in a huge database.
Another possible way is to use the 'Add Sibling' command from the menu bar. Of course you have to do this from a sibling's page, not from a parent's page.
Impression
MyRoots is easy to navigate. Selecting any names on the screen would immediately bring you the full info available about that person. It allows one-tap navigation from a person to his/her parents, children and related events. Via a pulldown menu, you can navigate to his/her siblings in two taps.

The siblings pulldown menu is a joy to use. By selecting it, you can see all the names of the person's siblings. By clicking on any of those names, you'll be brought to the respective siblings page. Imagine, complete access to the entire data of 3 generations on a single screen. Such feature is not available from PCs' geneological software (not the one that I've used anyway…)
You can also create separate notes for each person and event. Very useful for adding a little bit of 'history' for each person and event.
Once you have entered the geneological data, you can sort the people by name, year of birth or year of death. I ended up sorting by name since most data that I have, do not have these important dates.

If you need to view only a subset of your data, you can specify up to 3 separate filters. Very useful once you have a huge database.
You can use the Find Person function to locate individuals but I find it only useful if you know the last name and spelt it correctly. That is rather difficult for Malay names since there are various possible ways on how to spell common names like Mohd and Abdul. Therefore the usefulness is rather limited.

Version 2.13 allows you to display the ancestors and descendents tree. Though the output is not as visually pleasing as those on similar PC counterparts, it does do the job to a certain extent.
Although using a geneological application on a PDA has its advantages (portability, instant access), it also has its limitations. For example, you can't do printouts of the family tree in a graphical format, like what you can do with a PC version. To overcome such limitations, we will need to exchange data between MyRoots and the desktop version geneological software (ie Family Tree Maker, Legacy Family Tree). MyRoots has a conversion software on its website which is available for free. Using the conversion software, you can easily export out your data in GEDCOM format, the standard exchange format for such geneological data.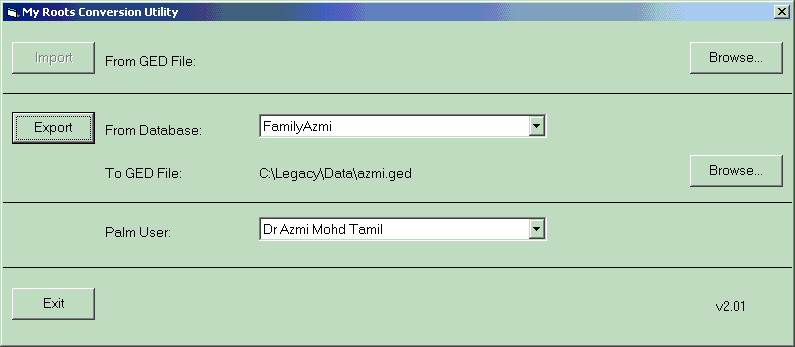 You can also export data from your desktop application into MyRoots using the conversion software.
I've tried importing the data from MyRoots into the free version of Legacy with no problem at all. I've even managed to make a simple graphical presentation of my family tree.

The current version of my wife's entire family tree has more than 772 individuals. The wall chart is 12 feet high and 2 feet across. I still have no idea where I could hang it 😛
Conclusion
My effort at collecting such data is beginning to pay off. I've managed to meet three other people from different branches of the family who have been doing similar work like mine. By merging our data together on the software, we would be able to come out with something solid for all the family members. A publication is in the works. Even now the pro-tem committee has been formed and a huge reunion is being planned for early next year.
As for the software MyRoots, this is one application worth trying out and registering. There are still some improvements that could be made. Among them are allowing a link to be created between the individual data in MyRoots and the contact information in the PalmOS default address book. The linked contact info should also be exported along with the data from MyRoots when using the conversion software. Of course if MyRoots has a conduit which connects the data automatically with a MyRoots desktop version (with all the bells and whistles of a PC counterpart), it would be even better. I hope that the developers are aiming towards that. Such things are already available for the PPC.