The irresponsible action of my colleague who left for a short course in Japan when he was supposed to be finalising the details for his students' trip to Bangkok, left the students high and dry. With RM4800 paid upfront for fares and accomodation, no approval applied yet from the Ministry of High Education and less than a month before the departure date, the outlook look very dim indeed. To salvage the situation, I volunteered to make the necessary arrangement. Unfortunately for me, my head of department insisted that I accompany them at my own cost. Somebody else created the mess and I had to pay for it. Memang $!@! betul.
Despite chasing after everybody's signature and approval, I only got verbal approval of the trip on the last working day before the departure date. That gave me very little time indeed for personal preparation. The first thing I did was to stop by a book store and bought the "Globetrotter Travel Map of Bangkok and Surrounding Area" and "Globetrotter Travel Book of Thailand". Those were the only decent items of Bangkok/Thailand that I could find in that shop and I didn't have the time to shop around. The first line that caught my eye when I skimmed through the book was that "Thailand has one of the world highest murder rates…..". Whoa!!!!! And I'm supposed to keep 4 girls and 3 guys safe throughout the trip! Man, no wonder the other lecturer ran off to Japan instead, a much safer country.
For my PDA, I only managed to install MetrO and the Bangkok network of skytrain/MRT. I did install HandMap and the Bangkok map from http://www.geocities.com/maps2mlap/bangkok.htm . Unfortunately the map was not GPS-enabled, therefore it was better to rely on the paper map that I bought earlier. I did try the Atlas map of Bangkok from http://www.geocities.com/maps2mlap/downloads/Bangkok_Atlas.zip , but it was really useless.
I wish that I had my brother's PPC, which has Pocket Map Viewer installed, then I could've made use of the excellent maps from http://mapcenter.cgpsmapper.com/maplist.php?cnt=210&rgn=&cat=3 . These maps of Bangkok by William Camelon would've made my life very happy indeed in Bangkok. If I have money to spend, I could've bought Map King 5 map of Bangkok from http://www.pocketgear.com/software_detail.asp?id=15681, but this also requires a PPC.
GPS Navigation is not a strongpoint of PalmOS PDAs, which is why I sometimes long for a PPC.
Instead I had to make do with my paper map, my eTrex GPS receiver and compass…………..Jadila
Day 1
We landed at Dan Muang airport (N13 55.238′,E100 36.136′) at 10 am Bangkok time (+7 GMT).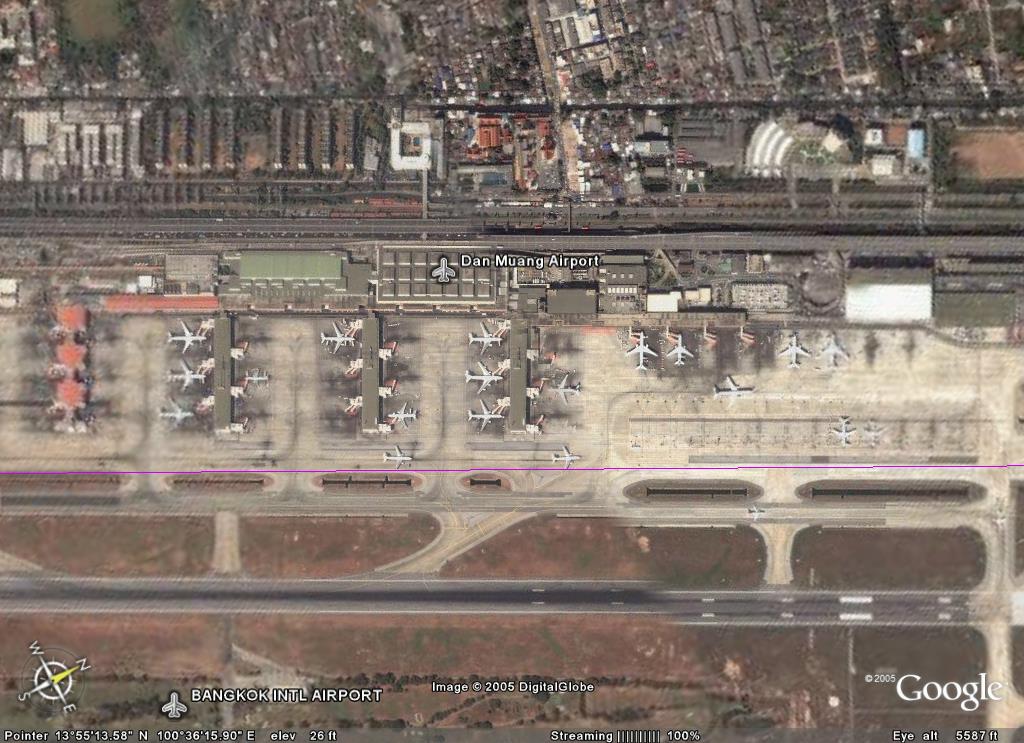 I find WorldMate Pro on my Treo 600 very useful for checking the local time and the currency rate. Unfortunately the rate cannot be updated while in Thailand since I do not have GPRS access. I do have roaming though via Maxis & Thailand Telecom. So do users of Celcom postpaid (connection ok an hour later, Maxis almost immediately upon landing). Unfortunately no roaming access for prepaids and postpaid Digi. So only 2 out of 8 people whose handphones are working. It cost us RM140 for two airport limosines for 20+ km trip to the First Hotel (N13 45.140′,E100 32.089′) on Thanom Petchaburi (Thanom = Road).
After checking in, we walked to the nearby Makyah Muslim Restaurant (N13 45.228′,E100 31.823′) near Soi 7 (Soi = Lorong) for lunch. It opens from 8am till 9pm. The proprieter is a Patthaani Muslim who can speak Malay very well. She even serves teh tarik (RM3) and roti canai! We feel very much at home here that we ended up taking all our meals here. The only downside is her price is double of what we used to pay for at home. At least we can be sure that the food is halal.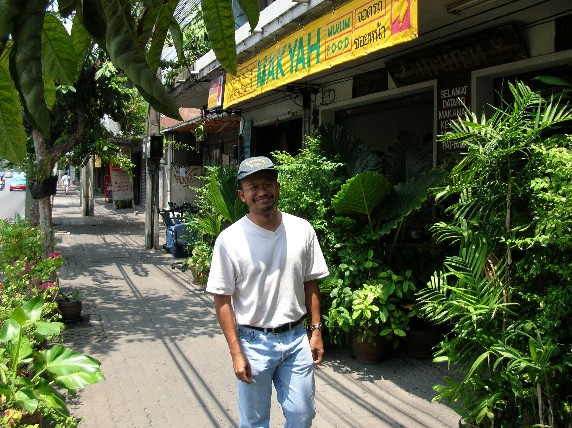 If you do go there, make sure that you get their business card. Very few Thais can understand the English alphabet, therefore it is very hard to communicate with them. They can't even read the address if it is written in English alphabet. Since Makyah business card is written in both languages, we just show the Tuktuk (beca bermotor) or the taxi driver the card, and they can drive you there. From there, you can easily walk back to the hotel, after eating your fill.
After lunch, we tried taking taxis to the Mahidol University to meet with the Dean of the Faculty of Tropical Medicine but all of the taxi drivers refused. Just like KL taxi drivers. So we ended up walking to Phraya Thai Skyway station (like our PUTRA) and took a short trip to the Victory Monument station. Cost RM1 per person. Then we walked to the faculty (N13 45.934′,E100 32.006′). After meeting with the Dean, we were brought around the research facilities by Asst. Prof. Chotechuang Panasoponkul (Deputy Dean for Student Affairs and Special Activities)
.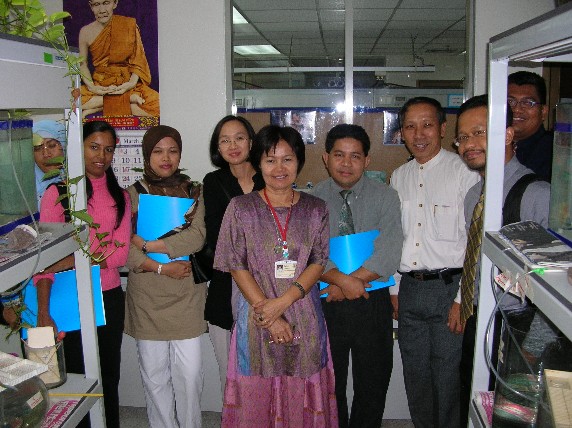 The young students decided to walk back to the hotel, a distance of about 3km from the faculty. One thing we noticed about the streets in Bangkok is that they are very clean. The people of Bangkok are very civic minded and they don't throw rubbish anywhere, a trait very much lacking amongst fellow Malaysians. Even the back streets are free of rubbish.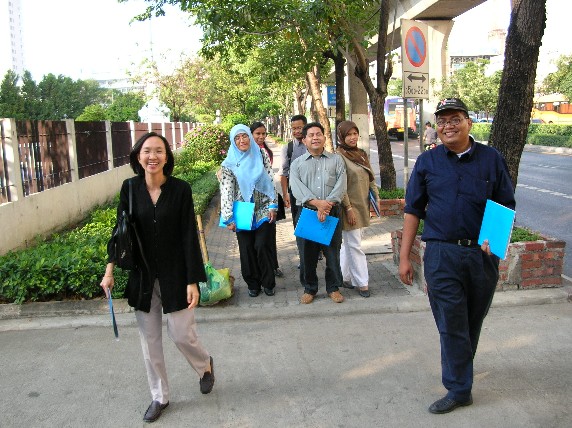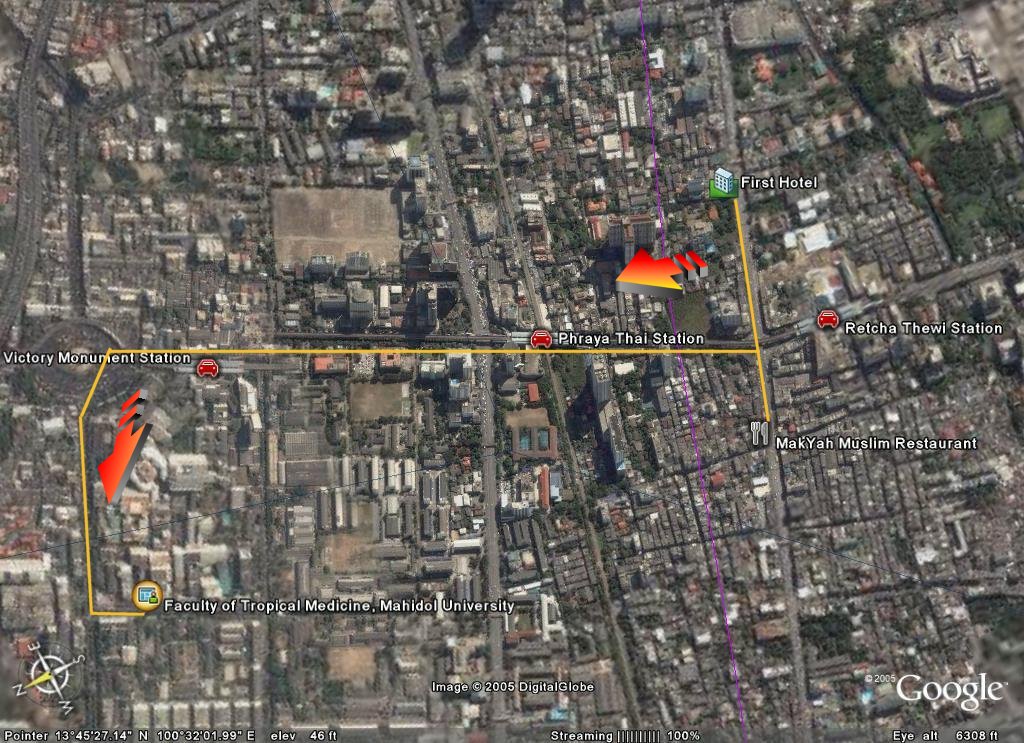 That night the students ended up walking around the Sukhumvit Business and Hotel area, just for window shopping, a distance of 3km, ending at the Makyah Restaurant. I had to accompany them since I vouched for their safety, a decision that I was beginning to regret :-p since my old skinny legs were beginning to buckle from all that walking.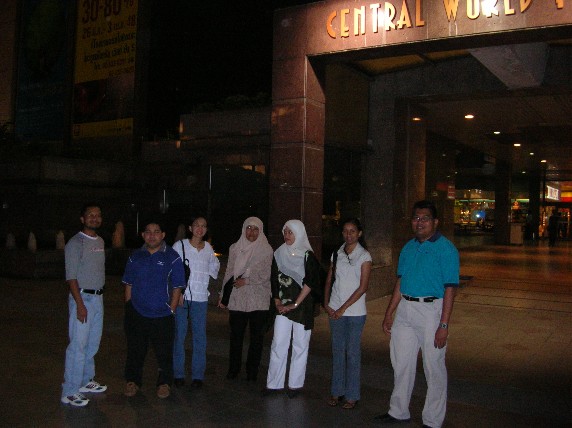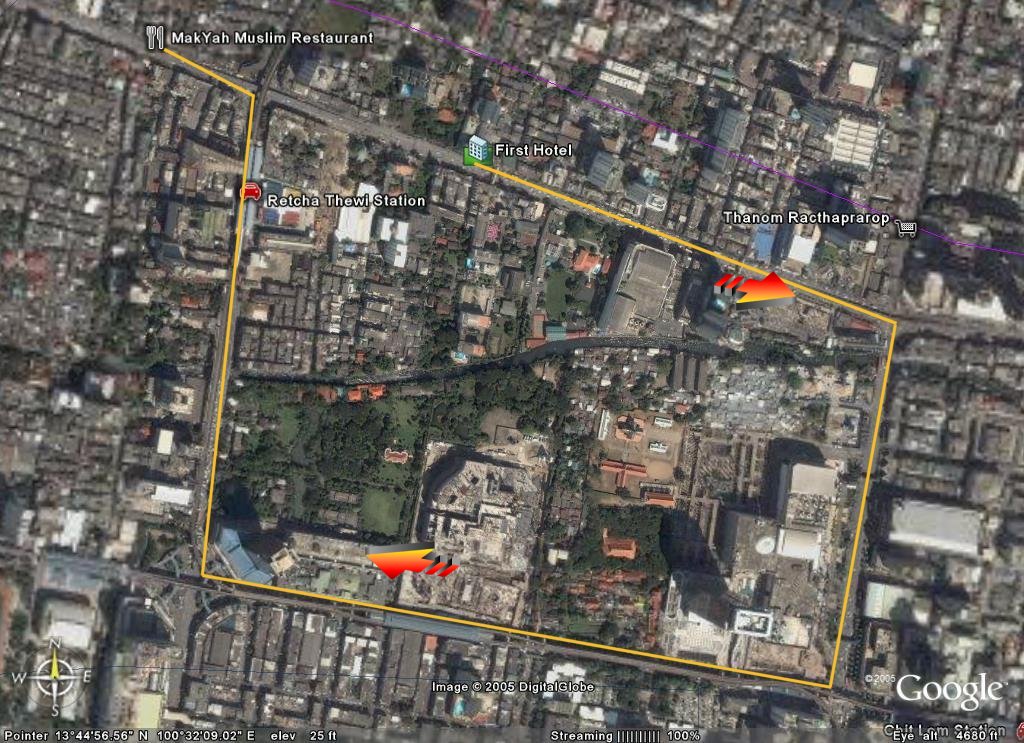 I slept soundly that night despite being in a strange bed since I was soooooo tired!
Day 2
After breakfast the students and I took the Skyway train from Retcha Thewi station to the Victory Monument station. Cost RM1.50 per person. We visited the clinical research facilities area of the Faculty of Tropical Medicine. Although it is only a 250 bed hospital; the ward, laboratory and data management facilities are top of the line. Which is not surprising since they conduct clinical trials of drugs and vaccines over here.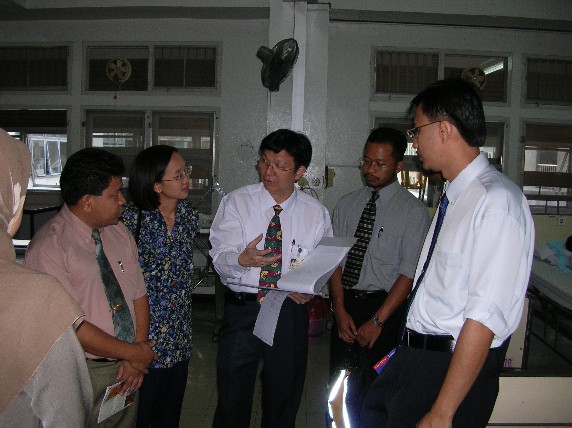 Later in the afternoon, we were brought to see Dr Orratai at the Bangkok Municipal Authorithy AIDS Control Division (N13 43.232′,E100 30.043′) at the Klongsan area. We were briefed about the AIDS/HIV problem of Bangkok. According to her, there are 2000 sex establishments in Bangkok alone and we have yet to find one! Maybe we were not looking hard enough 😀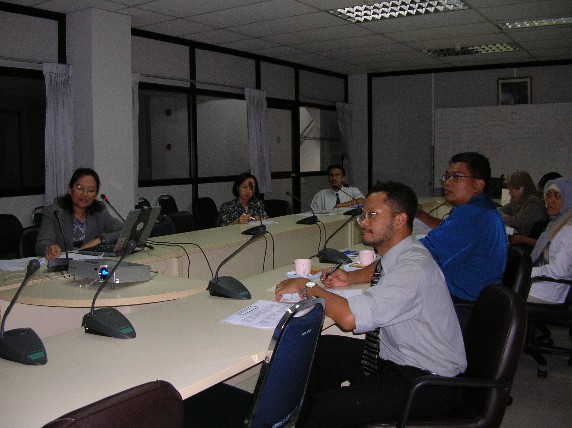 Getting back to the hotel was a problem since we were on the south west side of town and more than 2 km from the nearest skyway station. After a few missteps, we finally boarded the right bus to the Surasak station.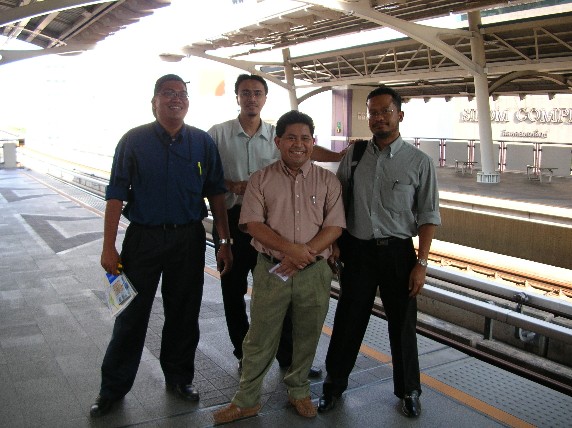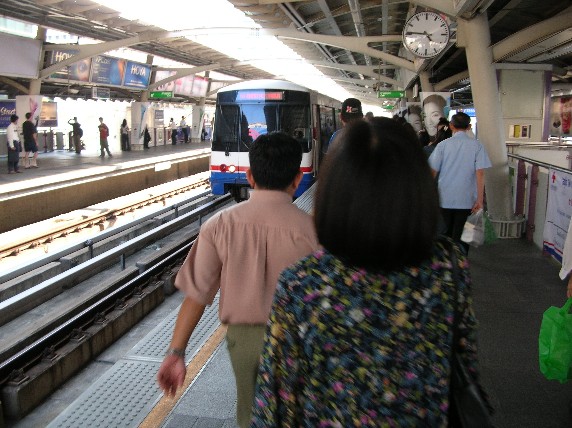 I didn't refer to the MetrO programme on my PDA and we ended up coming out too early at Sala Daeng station, a stone throw away from the notorious Patphong area. The girls utilised my mistake to go shopping in the area. The guys didn't realise that we were nearby Patphong area, or else we could've checked it out >:-)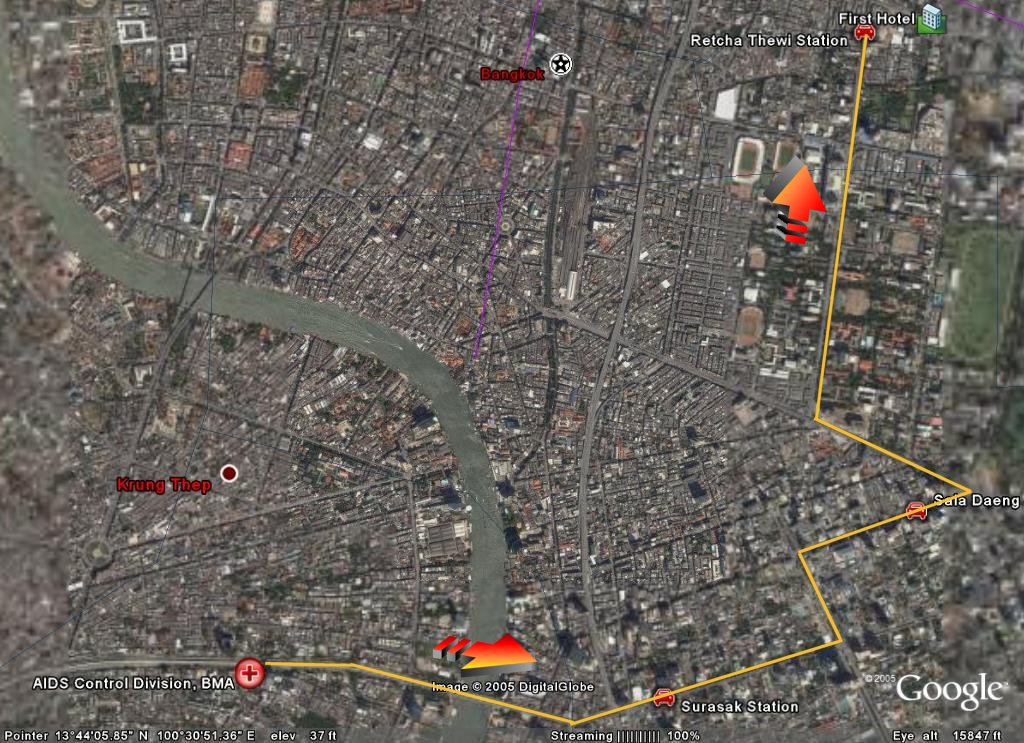 After dinner, I turned in early while the single girls and one guy took in the night sights of Bangkok on a tuktuk.
Day 3
We were brought to the Bangkok Metropolitan Authorithy Public Health Department (N13 46.294′,E100 33.325′) the next morning and were briefed on their activities and programmes. After lunch, we were brought to the Bang Sue district to observe the hygienic practices at a private market in Donsir (N13 48.399′,E100 31.976′) and visit a health and exercise promotion programme amongst the elderly in the community in Bang Sue (N13 48.527′,E100 31.710′).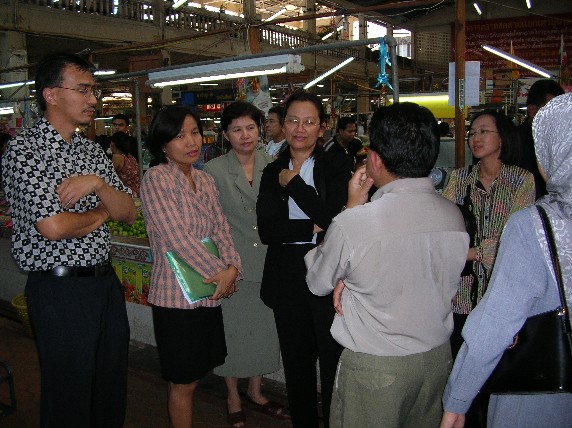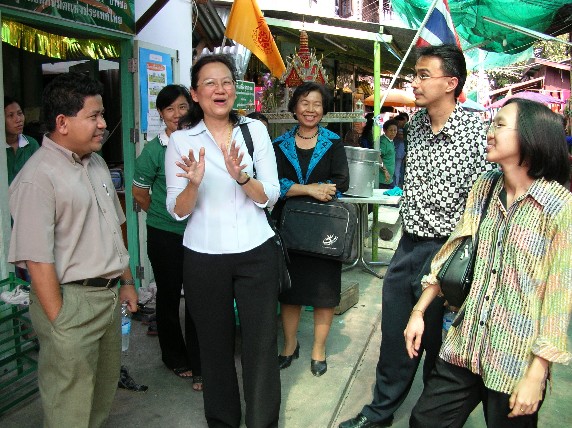 On the way back, they dropped us off at Saphan Khwai station and we took the skytrain to Ratcha Thewi station.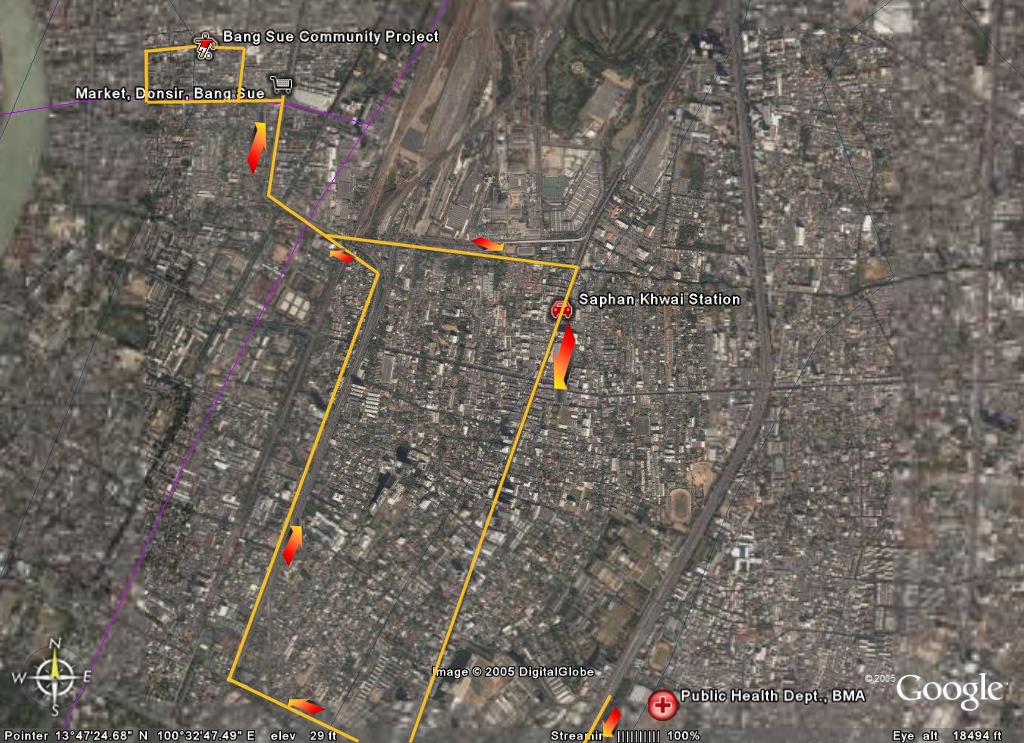 That evening the girls & guys went shopping along Thanom Racthaprarop. This is the best place to buy souvenirs and there were plenty of choices. I ran out of money and ended up borrowing from a student. At Chit Lom station, we took the skytrain back to Ratcha Thewi for dinner.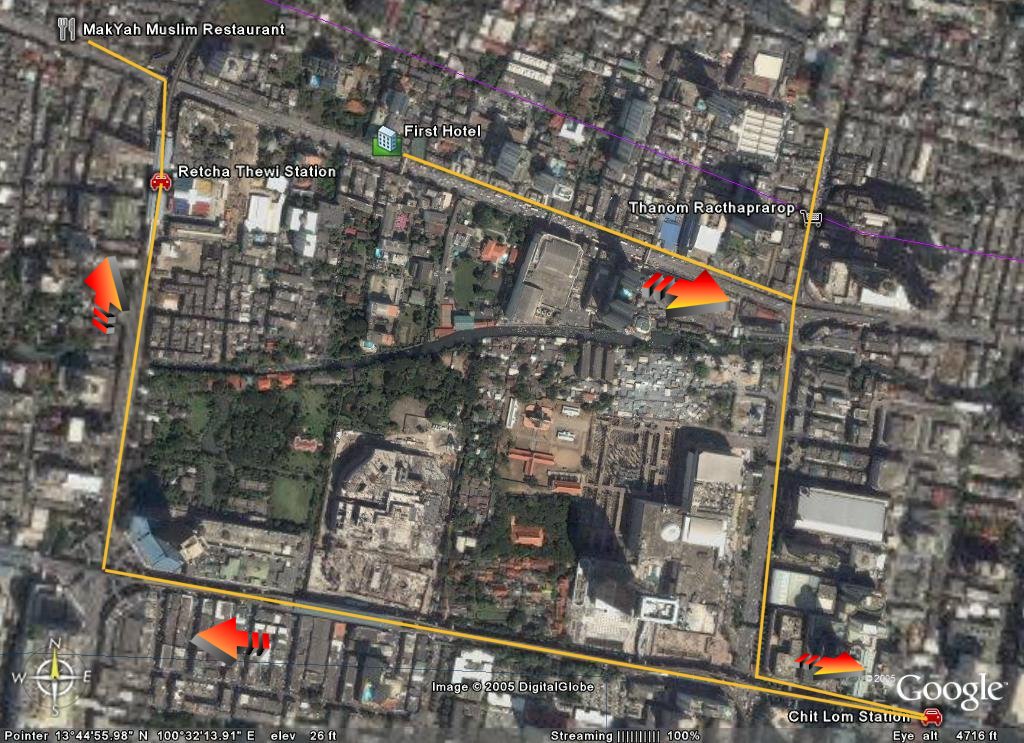 Day 4
The group wanted to go to Royal Grand Palace for sightseeing. Instead we got conned by the taxi driver who claimed that it would only open at 11am (in fact in opens at 8.30am and closes at 11.30am for morning). Instead he brought us to Rama VI Bridge Ferry Pier (N13 46.058′,E100 29.854′). We were further conned of RM320 for a lousy boat trip along the dirty klongs. Apparently the driver receives kickbacks from the ferry operator.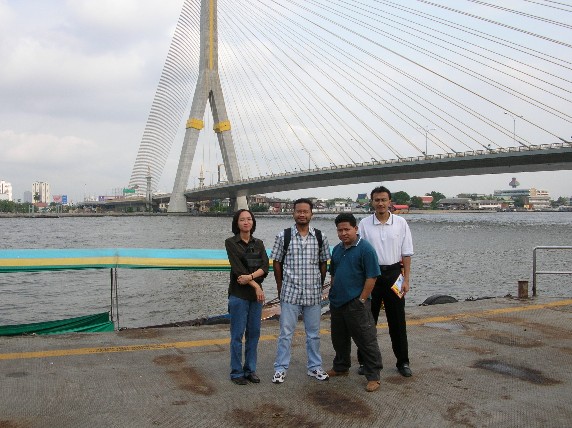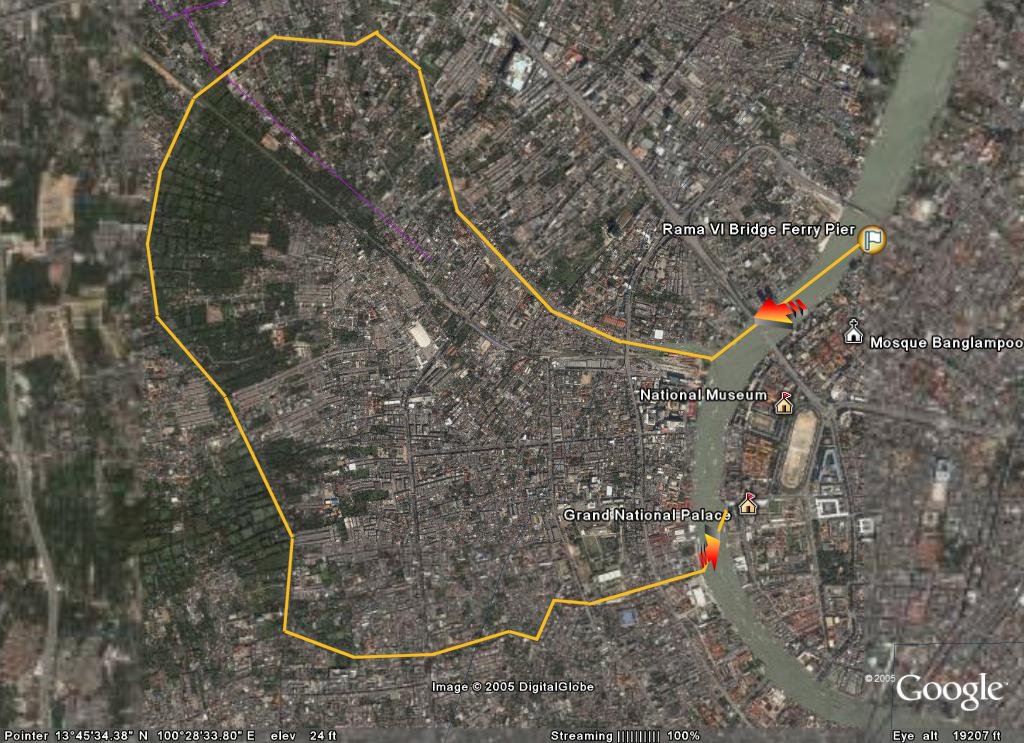 My advise to future tourists of Bangkok, avoid the boat trip. You wont miss anything. Those rip-offs artists should be drowned in the dirty klongs.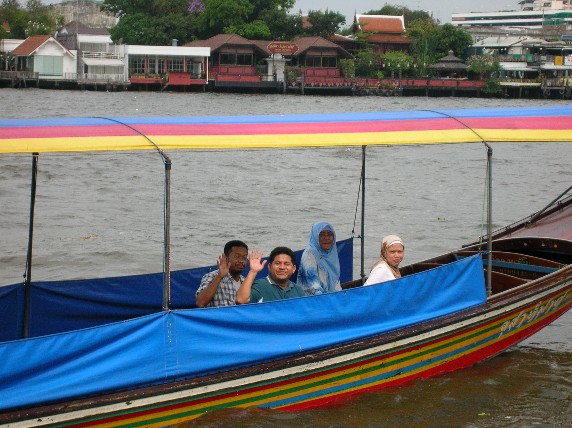 Since we arrived late at the Grand National Palace (N13 45.121′,E100 29.474′), there seemed to be very little point in paying RM25 each to visit for less than an hour.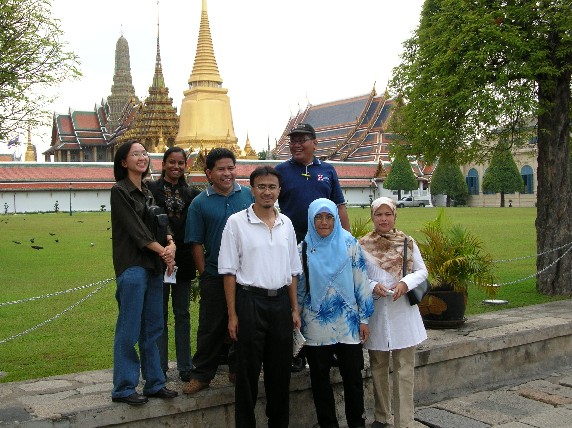 Instead we visited the National Museum (N13 45.455′,E100 29.555′) for RM4 each. Just visit the Gallery of Thai History if you are pressed for time since only this is the only worthwhile part to browse.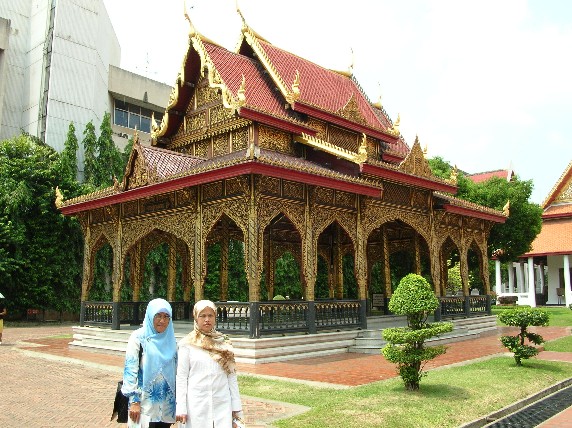 From there we walked to the nearby Banglamphoo shopping area near Thanom Phra Sumen. The prices are more expensive here since they cater to the Westerners. We prayed at a mosque here (N13 45.706′,E100 29.807′) and went back by tuktuk to the Makyah restaurant, utilising their business card for directions.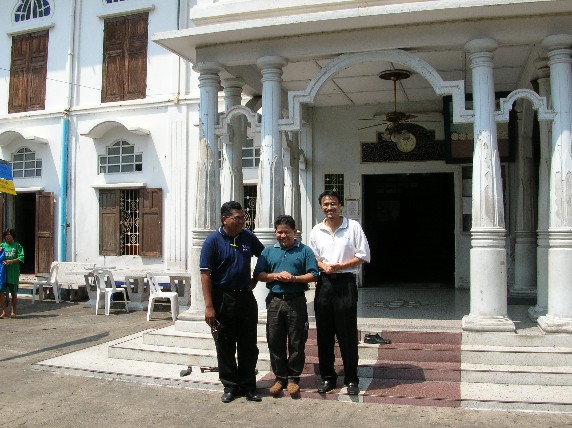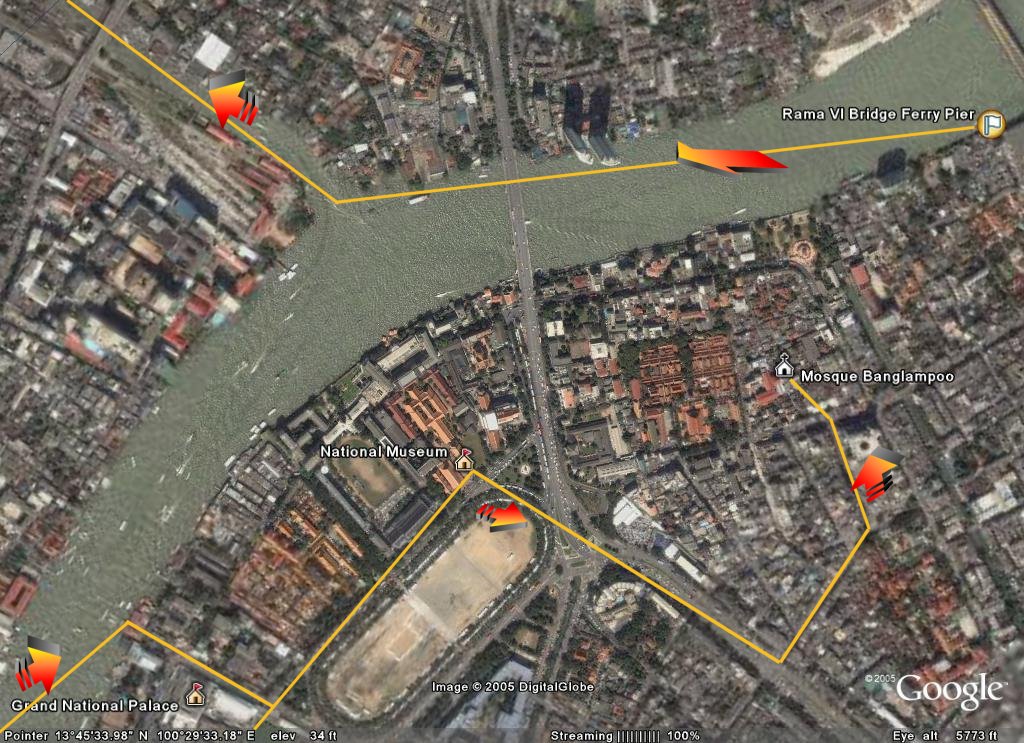 At 4 pm we took a van from the hotel to the airport (fare RM70), a journey of only 20 minutes, giving us plenty of times to twiddle our thumbs at the airport.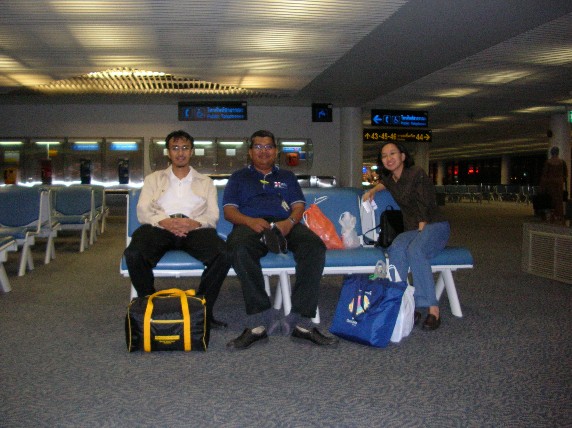 This was my fault since the book stated that the trip from the hotel to the airport would take more than 45 minutes. After checking in, we paid the airport tax of RM50 and waited at gate 41. The plane was late but we reached KLIA by midnight and I reached home by 2 am.
Conclusion
I ended up forking out almost RM900 (the most painful were paying RM311 for the air ticket and RM150 lodging) for the trip, which wont be reimbursed by the department. At least the students weren't disappointed and we didn't lose face with Mahidol University.
Bangkok is not really a tourism destination since there are not many interesting places to visit. There are better places in Thailand for a family holiday. As stated earlier, there are about 2000 sex establishments in Bangkok, which is the real main attraction of Bangkok. But they are discreetly sited so you have to really look for them if you're interested. Otherwise Bangkok looks and feels like any other metropolitan cities in South-East Asia.
If you're visiting Bangkok, try to utilise the skytrain and the MRT for transportation as much as possible. For speedy transportation in the city, consider the tuktuk. Forget about the taxis.