I decided to get on part two right away. Else it will be like my other efforts, a year later, still no sign of it 😛
Every Home Should Have at Least One Working Smoke Alarm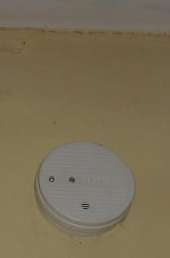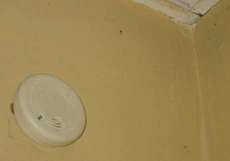 I've got two! I bought both from HandiMart Petaling Jaya. The one on the right was RM78 and it doesn't have the "Disable" button, so I place it in front, near my computer equipment. So no smoking in my house guys! The other has the "Disable" button and therefore placed near the kitchen and cost RM130. Once pressed, the alarm will be silenced for the next 7 minutes. Enough time to clear the kitchen from any "incidental" smoke. Else the siren will drive you crazy. The sound is guranteed to rouse the dead. BTW you could get them at half the price from Ace Hardware in Taman Melawati.
Why bother?
It's inexpensive protection for you and your family. You should install a smoke alarm on every level of your home. A working smoke alarm can double your chances of survival. Do test it monthly, keep it free of dust and replace the battery at least once a year.
I think all of us remembered the tragedy that occurred in Shah Alam last year. I bought the alarms right after that incident. My wife and I had our own close call during the first year of marriage. By the time we realised the fire, it had already spread to the furnitures in the kitchen. Luckily both of us were awake at that time. I dread to think what may have happened if we were asleep. So guys…….get one for your home!
Prevent Electrical Fires
Never overload circuits or extension cords. Do not place cords and wires under rugs, over nails or in high traffic areas. Immediately shut off and unplug appliances that sputter, spark or emit an unusual smell. Have them professionally repaired or replaced.
Being a gadget freak, you would've guessed that all the plug points in my house are utilised to the max. I try to take all possible precautions not to overload them. Once I got my own place, each appliance would've their own plug point.
Use Appliances Wisely
When using appliances follow the manufacturer's safety precautions. Overheating, unusual smells, shorts and sparks are all warning signs that appliances need to be shut off, then replaced or repaired. Unplug appliances when not in use. Use safety caps to cover all unused outlets, especially if there are small children in the home.
Affordable Home Fire Extinguishers
When home fire extinguishers are used with working smoke alarms, your chances of surviving a fire are increased. I bought mine from a promotion at Makro Selayang. This is my second one. The first one was used to chase away a huge monitor lizard from the bathroom 🙂
Make sure your family understands how to use it, when to use it and when to run.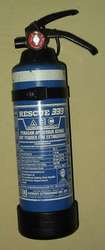 Plan Your Escape
Practice an escape plan from every room in the house. Caution everyone to stay low to the floor when escaping from fire and never to open doors that are hot. Select a location where everyone can meet after escaping the house. Get out then call for help.
Caring for Children
Children under five are naturally curious about fire. Many play with matches and lighters. Take the mystery out of fire play by teaching your children that fire is a tool, not a toy.
Emergency Lighting
If you've been following the news closely, you would've realised that some of the fires that occurred were due to mishaps with candles, lantern etc during a power failure. Why risk all that when there is a safer alternative?
During the Y2K scare, I added some more emergency lighting to my house. Two of them were fixed to the wall (front & dining area) and continously connected to the power supply. Once there is a power failure, both will come on automatically. Therefore there wont be any need to hunt for matches and candles in the dark. The children wont be scared and you would be free to decide whatever that is necessary. Another is in the bedroom, always fully charged and utilised when necessary. Such items are available at fair prices at the famous Jalan Pasar (Pudu).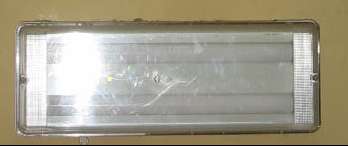 Do keep torchlights around the house. It would be better if they are permanently placed somewhere within reach (see picture below). I have plenty of torchlights around the house. My favourites are the Magna-Lite torchlights. A bit expensive but well worth the investment. You can get them at half the usual price at the regular UFL warehouse sale in Bandar Menjalara. Else you can get the Tiger-Lion torchlights from Maidin in Selayang. Exactly the same like a Magna-Lite but only the brand is different and it comes at only one fifth the price of a Magna-Lite. The advantage of using such torchlights are they are extremely bright and powerful, each has a spare bulb at the bottom cover and the body made out of anodised aluminium. So it can act as a baton, if so required.

Self-Defense
You can take up martial arts for self-defense and fitness. Action Martial Arts Academy Leaque (AMAAL) has training centres all around Klang Valley and they have flexible schedules for the working adults. For example, my training centre has classes every Monday, Wednesday & Friday nights and Sunday morning. I only attend 2 of those classes each week, whichever that fits my schedule. They even have female instructors for female students. To those interested, please call Rasahidan Ahmad at 012-4612974.