How to connect your PalmOS PDA to the Internet using Psion Travel Modem (IR modem)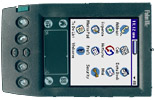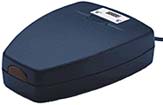 Connecting your PalmOS PDA to the Internet via your handphone is an expensive affair, just like having an affair :-). Just kidding. But seriously though, the charges that need to be paid are not to be sneezed at. You get connected at a measley 9.6 kbps with GSM, so it took a long time to download your mail. At 30 cents per minute at peak time, each login can cost you up to RM16 per session (personal experience) or more. My phone bill can go up to 3 times higher when I was using my handphone for Internet access. Being a lowly paid government servant, this is something that I can ill afford.
The solution came to me last Saturday, when fellow palmxer Hamid Misnan sold me his Psion Travel Modem. It is a 56K IR modem which runs on 2 AA batteries and allows me to connect to the Internet via IR through a fixed line aka PSTN. There is also a slot which allows me to connect through non-IRDA GSM phones (for certain Nokia & Ericsson models only) via custom cables which cost around RM120 each. Since all my handphones have IRDA, there is no need for me to worry about getting those cables.
So below is a step by step instruction on how to configure your PalmOS PDA to use the modem via a fixed line. To connect via a handphone, please refer to Part 1 since the configuration is the same. I am not sure how useful this will be since very few palmxers have a Psion Travel Modem.
Palm Configuration:
1. Modem Configuration
Download EasySwitch from http://www.psion.com/drivers/palm/Easyswitch1_9.zip
Unzip the file and install it in your PalmOS PDA via HotSync
Run the EasySwitch program by tapping on it twice. Make sure that the modem is switched on and placed in front of your PDA, with the IR ports facing each other.

Let it detect your modem, then select your country.


Once done, click on "Close".
2. Palm Modem Configuration
Tap the pull-down menu on the top right-hand corner and select System

Tap on the Prefs icon.

Select 'Serial/IR' from the drop-down menu on the top right-hand corner and tap on the 'Infrared' box (Only for OS3).Note: You will need to switch back to "cradle" in order to carry out HotSync operations using the cradle.

Tap on the drop-down menu on the top right hand corner and select 'Connection'

Click on the 'New' button. Fill up the required field including naming your connection, which in this case is named "Psion Travel Modem" and select "Connect to:Modem" and "Via:Infrared" (or IrCOMM to Modem under OS3) as the connection method.

Tap 'Details' and set speed to 115,200 bps and Flow Ctl to Automatic. Once done, tap 'OK'.

Tap 'OK' again to save
3. Palm dial-up connection configuration
Select 'Network' from the drop-down menu on the top right-hand corner

Tap the menu button in the lower left corner of the graffiti area and tap 'New'
Rename the service to something other than the default 'Untitled' ie  Jaring

Enter your User Name ie azmitml
If you prefer prompting for password upon connection leave password setting as '-Prompt-', else tap on '-Prompt-' to assign password
Select the connection that you have just created for your travel modem ie Psion Travel Modem. Enter your ISP's dial-up number ie +1511*. The end result should be similar to the screen below.

(*note: You may use whichever ISPs that you're comfortable with, either Jaring, TMNet, Maxis, Time or Celcom, as long as you have the necessary phone numbers to dial. You can dial the usual 1511 for Jaring or 1515 for TMNet.

Tap 'Details' and enter further settings required by your ISP. I usually set the Connection type as PPP, Query DNS – Yes, IP Address – Automatic.

When done, click the OK button and you can try it out already. Do ensure that the IRDA port of both Palm and your Travel Modem are facing each other.

You have just finished the configuration of your Palm for dial-up connection. To try it out, simply activate your travel modem and you can dial-up through your fixed line.
Credits:- Most of the information here are sourced from the discussions in the palmx egroup (http://groups.yahoo.com/group/palmx).