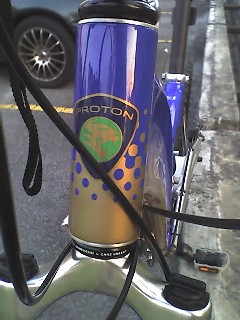 Review: Proton T-Bolt
By Dr Azmi Mohd Tamil
Yesterday I bought a 16 inch Proton T-Bolt mountain bike for RM850. It usually sells for RM2700 but nowadays you can get it for around RM800 to RM850. Apparently Proton is getting out of the bicycle retail business so you can get the T-Bolt bikes cheap, but with no warranty.
Based on the following chart, I am supposed to ride the 18 inch model, not the 16 inch one, but I could only get my hands on the 16 inch model. But after riding it, I am glad that I bought the 16 inch model instead.
| Model | Height (cm) |
| --- | --- |
| 16" | 152.4 – 170.2 |
| 18" | 172.7 – 180.3 |
| 21" | 182.9 – 193.0 |
I am not a keen bike rider and for the last 12 years I have been riding the same el-cheapo mountain bike, a stainless steel Raleigh "hard-tail" mountain bike which I bought for RM399. It's heavy but strong, durable and it serves its purpose. I used to cycle 20 km at least 3 times a week, riding from Kg. Padang Balang in Gombak till Taman Melawati and back. But since shifting to Subang, I only ride around the nearby housing estates, clocking in only 5 km or less. Although it is meant to be ridden off road, I only did that once. You can read about that episode here. So my impression of my new bike is not of a professional rider but of a "weekend warrior" rider.
Why did I buy the Proton T-Bolt? It sounds like a good deal and I've been looking for a bike that won't embarrass me at group rides. Sound ridiculous, I know. A PalmX member once wrote "to enjoy bike riding, you need to own a reasonably good frame and accessories – need not be a Rolls Royce, just having a reasonable and comfortable Proton car is good enough but not a shabby old car". So literally I have a Proton to ride but I'm still keeping my "shabby old car" for my daily rides.
The specification of the bike is as follows;
FRAME & SUSPENSION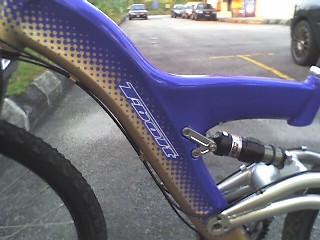 FRAME T-Bolt carbon fibre monocoque, 100% hand made with alloy swing arm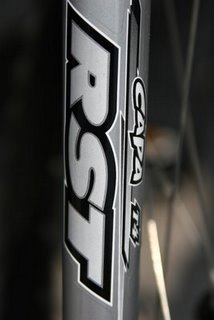 FORK RST Capa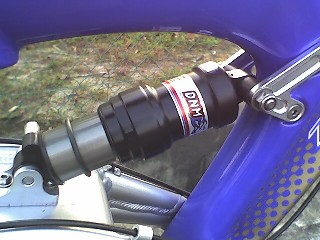 REAR SHOCK DMN Torch AO-1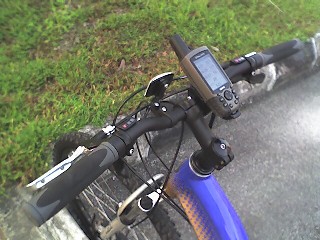 STEM Kalloy Black
HANDLEBAR Kalloy Black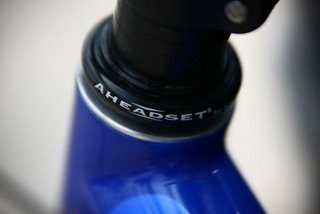 HEADSET 1-1/8″ alloy anodised black AHEADSET and Cane Creek
POWERTRAIN
CRANKS Truvatic Black
FRONT DERAILLEUR Shimano Deore LX

REAR DERAILLEUR Shimano Deore LX
REAR CASSETTE Shimano 11-32

SHIFTERS Shimano Deore Trigger Gear Shifter 9 Speed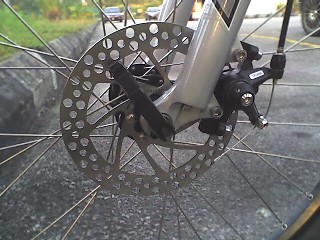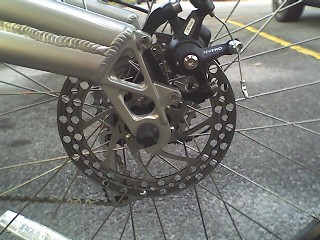 BRAKES Tektro Disc Brake
WHEELS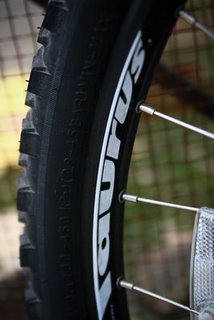 RIMS Taurus 2000 anodised Rigida Taurus black
HUBS Formula 32H
SADDLE Velo Black
SEAT POST Kalloy Black
SIZES 16″ and 18″
COLOUR Orange, Green & Solid Blue
Riding Experience
Currently my weight is 95kg, so when I sat on the bike, the rear suspension really drops. According to the manual, the pressure for the rear pneumatic suspension is as follows;
| Weight (kg) | Pressure (bar) |
| --- | --- |
| 55 | 6.1 |
| 64 | 7.1 |
| 73 | 8.1 |
| 82 | 9.1 |
| 91 | 10.1 |
| 100 | 11.1 |
So I am supposed to increase the pressure of my pneumatic suspension until 11.1 bars. Hmmmmm….. where can I find a pump that can do that? Even my MPV tyre pressure is not that high, only 2.5 bars. So I'm staying away from the air valve until I get advice from a real T-Bolt expert.
I tested the bike on road yesterday, just before breaking fast. I only rode it for 5km. I have to agree with others on this, riding the T-Bolt on the road is a bit strength taxing. The suspension is soft and it absorbs most of your pedaling power while riding on the road. I have to somehow pump up the pneumatic suspension to maximise my pedaling power. Otherwise I will be very, very tired after cycling this bike.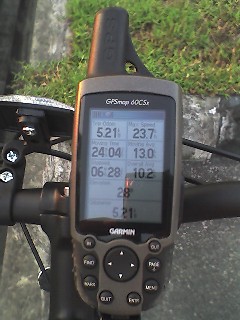 Although I only rode for 5km, I was so tired that I fell asleep right after breaking fast and only woke up the next day for dawn prayers. Isyak and sahur gone! If I ride my "hard-tail" Raleigh MTB, I could do 8km and still have energy for tarawikh prayers. So the soft-suspension is not really an advantage for on the road riding.
Otherwise it was a very nice ride yesterday. My hands didn't hurt so much since the vibration was minimal, thanks to the fantastic front suspension. The brakes were fantastic. You can put all your trust in the brakes and its stopping power. The gears were nice indeed. Riding a T-Bolt at the highest gear speed setting, on flat even ground, without even pushing myself, the speed was around 25 km/hr.
Changing gears was easy with the trigger mechanism. It takes very little time to get used to it. With 3 speeds upfront and 9 speeds at the back, I can come up with a suitable combination for any type of road gradient.
This T-Bolt bike weighs only 14.5 kg. I could easily carry it up the stairs to my second floor apartment for safe keeping. I can't do that with my stainless steel Raleigh which weighs 20kg, unless I plan on getting a myocardial infarct every time I bring it up the stairs.
Conclusion
RM850 for 14.5 kg Proton T-Bolt handmade carbon fiber frame is a good deal indeed. I can't even recognise the brand names of the components of the bike since all these are branded items, something that I am not used to, being a skin-flint bike rider. According to another review, all these items are value for money, the best items that you could buy at a reasonable price. Since I don't know much about such things, I have to accept his views.
In short, Proton T-Bolt is good value for money. Guys, you better start hunting for one soon. Otherwise you'll spend the rest of your life regretting it.